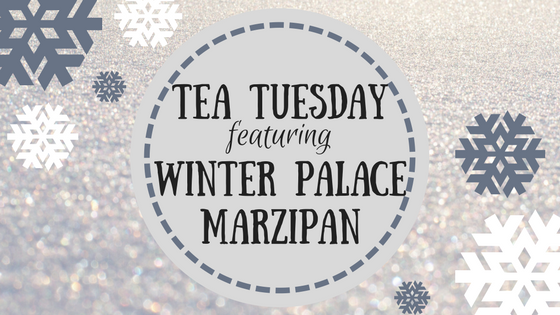 Tea Tuesday: Winter Palace Marzipan Rooibos
Tea Tip Tea Tuesday
When I was a little girl, nothing excited me quite like the holidays. The sparkling lights on every house in sight combined with a warm cozy household made the season magical. There was nothing quite like the sparkle of fresh snow.
Flash forward, the holidays still give me a cozy feeling similar to slipping out of my heels and putting on my fuzzy socks after a hard day of work.  The smells, sights, and feelings of childhood nostalgia never cease to warm my spirits. One smell in particular though always sends me back in time… marzipan.
Such a unique smell, this delight reminds me of baking cookies with my grandma. Although I usually ended up covered in more ingredients than what ended up in the bowl, it is one of my favorite memories of childhood. The smell of the rich almond paste still greets my nose with happiness.
Lucky for me, I have found this memory triggering scent in a hot cup of tea at The Tea Shoppe. Labeled Winter Palace Marzipan (or happiness in a cup as I call it), this Roobios tea packs a punch. The smell of fresh marzipan immediately hits your nose and invites you to relax and reflect.
Rooibos, otherwise known as red tea, is grown commercially only in South Africa's Cederberg district. Harvested for millennia by the indigenous San people, Rooibos tea is rich in minerals, vitamins and antioxidants. It also takes flavoring exceptionally well. Free of caffeine but high in character, these are wonderful teas for anytime sipping.
So cozy up with a warm cup of Winter Palace Marzipan tea this holiday season, and unwind with its delightful flavor properties.