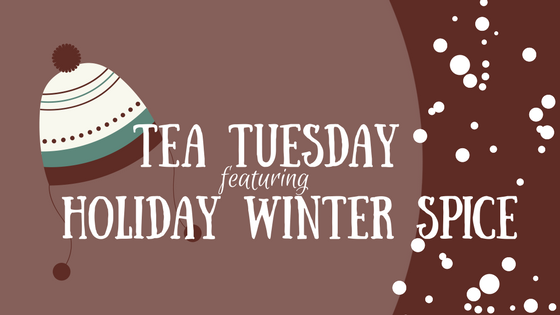 Tea Tuesday: Holiday Winter Spice
Tea Tuesday
"Sweeping blasts…o'ercast skies…winter, you love it or you hate it."
By the sounds of it, Robert Burns loved it every frozen minute of it. We can't say I feel the same way, but I do love spicy winter warm-up beverages…any time of the year.
Although I am not a fan of the cold itself, I am in love with the winter season. Nothing is quite like the holiday season, with time spent among family and friends.
On a colder afternoon or evening, there's nothing like curling up in front of a roaring fire or with your loved ones, with your hands wrapped around a hot mug of spicy winter goodness. We favor our black tea based Winter Spice blend with a fabulous blend of cinnamon, cloves, dried fruit, herbs and spices is sure to get your taste buds fired up and your mind dreaming of warmer days. Joyless winter day? Bring it on!
Our Holiday Winter Spice Tea has what most consider holiday spices that stir memories, with cinnamon and citrus notes. It is a tea which stirs memories regardless of the time of the year. Besides who can say no to a spiced tea.
The History of Holiday Tea
In 19th century England and the United States, drinking wine and ale on Christmas Eve became a widespread tradition… perhaps a bit too widespread, according to some.
In response, teetotalers in both nations started a movement to make Christmas a tea holiday, rather than a drinking holiday. Supporters of this movement would host extravagant Christmas Eve tea parties, and would invite thousands to gather together, sip hot tea, and listen to sermons.
Over the years, the tradition of the Christmas tea party became less about reducing alcohol consumption and more about hosting a glamorous, ritzy affair meant to impress.
Helpful Guide to Holiday Tea
If hosting guests this holiday season, this is the perfect addition to your menu. A dash of milk and sugar enhances the finish of this delicious cup.
For our "holiday" tea drinking friends who like the spicy, cinnamony, citrusy teas which go well with the cooler, Autumn and Winter months, you might also take a look at our selection of "Holiday" teas:
Winter Palace Marzipan Rooibos