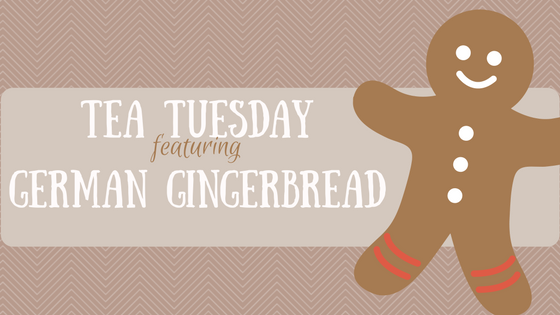 Tea Tuesday: German Gingerbread
Tea Tip Tea Tuesday
The temperature is dropping and we are starting to get in a holiday mood.
Although it seems like the holidays are being pushed earlier and earlier each year, I would be lying if I said I didn't enjoy the sights and smells of Christmas a little early.
My family has quite a few traditions each holiday season, like trimming the tree and watching "Elf" on repeat. One of our most treasured, however, is our yearly attempt at a gingerbread house. I must say attempt, because our house always comes out condemned.
In the process of preparing for the annual fun, I started to wonder just how gingerbread came about to be such a large tradition in so many American homes.
The German Gingerbread
How seriously does Germany take its gingerbread? Seriously enough that in 1643, the city of Nuremberg recognized the profession of baking gingerbread (known in German as Lebkuchen), and created an official guild entitled the "League of Lebkuchen Bakers". Two years later, in 1645, the league went on to develop a code of strict guidelines commercial bakers had to follow in order to legally bake and sell their creations in local markets. Suffice it to say, they take their gingerbread extremely seriously.
If you've ever tasted German gingerbread, you"ll quickly understand why it ever demanded such scrutiny. You'll also understand why it continues to demand such hoopla.
Simply put, it's wunderbar.
To this day, many bakeries in Germany guard their gingerbread recipes, practically on pain of death.
A Cup of Cheer
Luckily, we were able to persuade a Nuremburg baker to provide his list of ingredients.
Very  little compares to the all-natural flavor of this exquisite Flavored Black German Gingerbread tea. Bright in the cup and brimming with spicy gingerbread notes, this tea will have you saying ja bitte (yes, please) in no time.