Earl Grey MarTEAni Recipe
Loose Leaf Tea Recipe
Enjoy this variation on your favorite happy hour drink! Earl Grey loose-leaf tea can be infused into your favorite gin to create a tasty twist on the traditional martini!
Earl Grey Loose-Leaf Tea-Infused Gin
What you need:
One 750 ml bottle of Tanqueray gin (feel free to substitute your own favorite gin).
4 tablespoons loose Earl Grey tea leaves.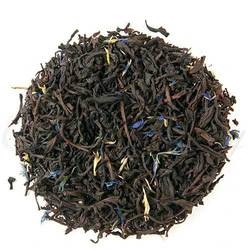 Directions:
1. Carefully measure the tea leaves and feed them through the neck of the gin bottle.
2. Cap the bottle and shake to mix.
3. Let the gin sit at room temperature for a minimum of two hours.
4. Strain the gin to remove the tea leaves, thoroughly rinse the bottle to remove the tea debris and pour the infused gin back into the bottle.
5. The infusion will last indefinitely if kept refrigerated.
Earl Grey MarTEAni
Ingredients:
1 & 3/4 ounce Simply Lemonade
1 & 1/2 ounces Earl Grey tea-infused Tanqueray (or your favorite substitute) gin
Lemon twist for garnish
Coarse sugar to rim the glass
ENJOY 😉