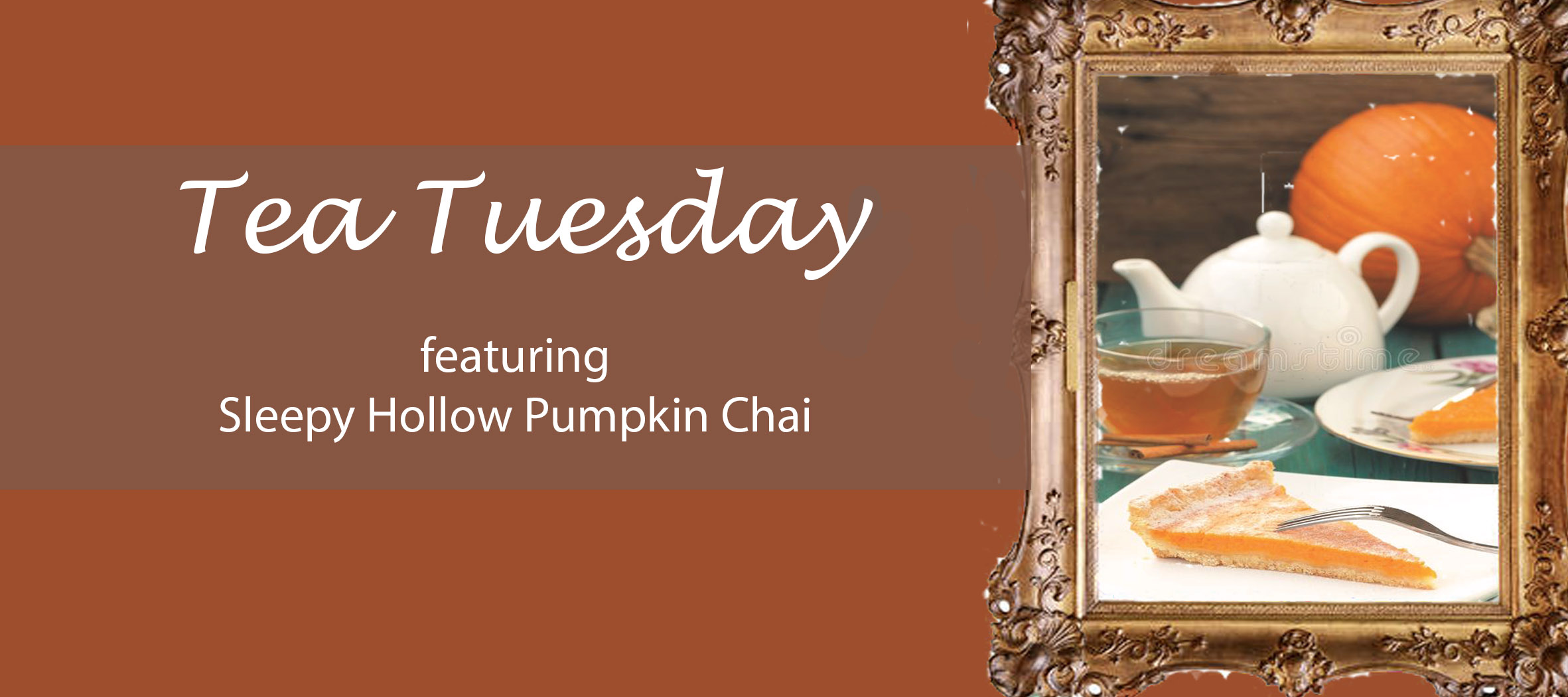 Tea Tuesday: Sleepy Hollow Pumpkin Chai
Loose Leaf Tea Tea Tuesday
Upon the first changing of a leaf, pumpkin spice season has begun! It seems nowadays that everything has been made pumpkin spice. During my last shopping trip I stumbled upon pumpkin spice flavored margarine. Come on now…
For those seeking a delicious solution to their pumpkin spice fix, look no further. The Tea Shoppe carries two varieties of pumpkin spice tea, a Pumpkin Spice black tea and Sleepy Hollow Pumpkin Chai tea. Today, I will be focusing on the latter.
So come try this rich blend and get ready for fall!
A Ghoulish Tale
With nights turning cooler and spirits roaming about, warm up with a legendary cup of tea. Blended to commemorate the 1820 short story, "The Legend of Sleepy Hollow" by Washington Irving, Sleepy Hollow Chai is all but guaranteed to ease the chills.
The blend also happens to be the perfect beverage to commemorate the town of Sleepy Hollow NY, formerly known as North Tarrytown, but changed to Sleepy Hollow in 1996 after residents there voted to change the name. The town serves as Mr. Irving's final resting place.
It is Scary Good
So, what goes into a tea named after the terrifying tale of Ichabod Crane and the Headless Horseman? Pumpkin, of course. The story goes that the horseman had the head of a pumpkin with which he terrified residents who dared to see him for themselves. To the black tea is added a select blend of herbs and spices, chai mix and cinnamon, perfectly complementing this ghoulish brew.
Although the spicy flavor of the chai is evident, the pumpkin notes still shine through equally as strong. This makes for a well balanced cup.  The blend itself is loaded with fun Halloween-themed sprinkles of ghosts and pumpkins, adding a touch of whimsy to this fun tea. Try this as a chai latte for a scary good drink!
No tricks, this tea is definitely a TREAT!