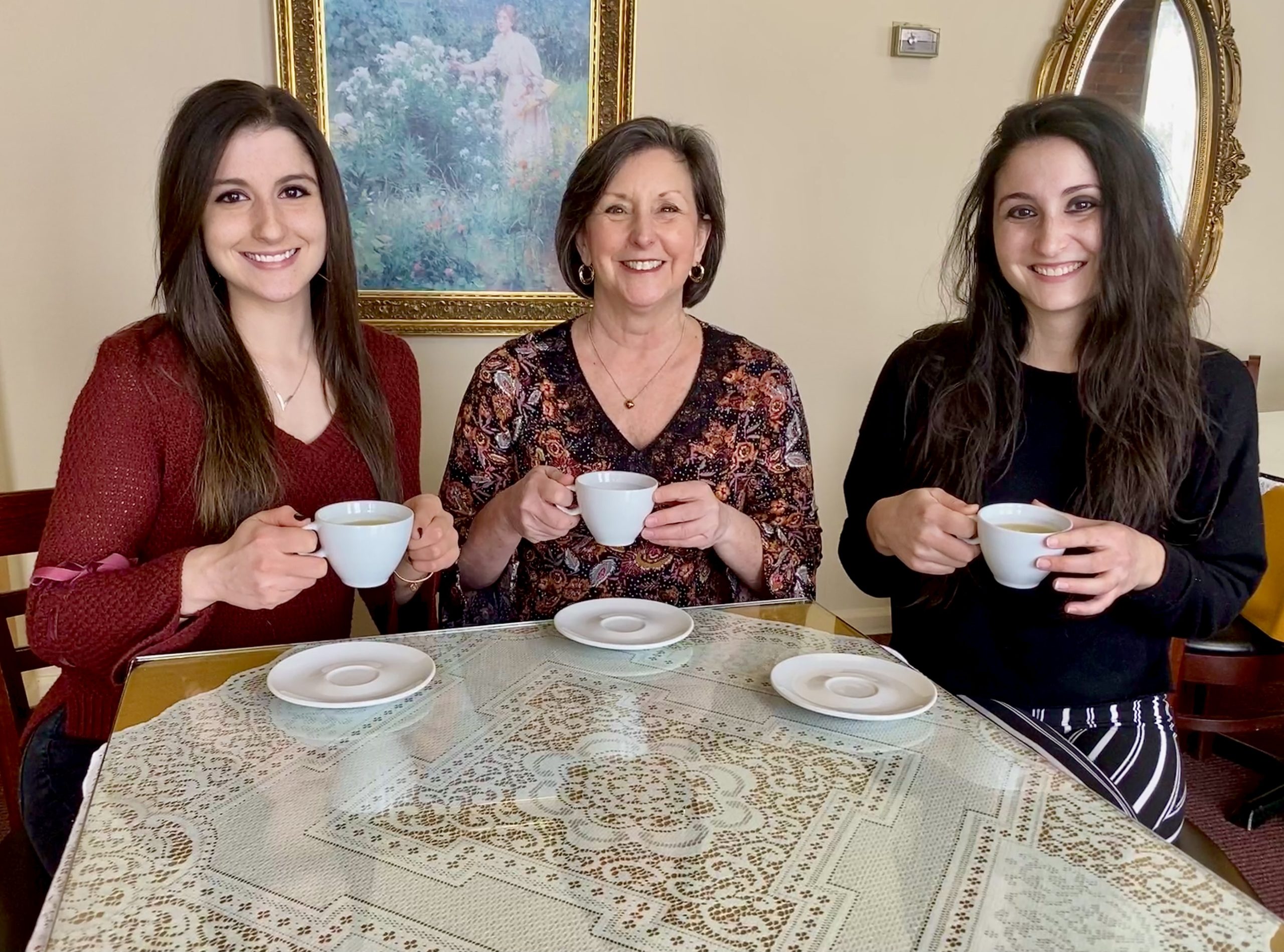 Celebrating International Women's Day at The Tea Shoppe!
Community
In celebration of International Women's Day today (March 8th 2021) we wanted to focus on the three women who are running it all at The Tea Shoppe, Lisa Biafore and her daughters, Rachel and Regina!
Did you know that The Tea Shoppe started as "fun retirement option" for Lisa? With 30 years of business experience in the corporate world, Lisa was looking for something fun to do once she retired. However, this quickly changed when she was laid off. Following the theory that "once one door closes, another opens", Lisa decided that 'retirement' had come. With this, she focused all her efforts into the business and expanded the shoppe from a small, secluded tearoom into a full restaurant/cafe and retail space and implemented an e-commerce website. Lisa continues to educate herself in all aspects of tea and has received several certifications: Certified Tea Specialist and Professional, Tea Sommelier, Tea Blender, and Tea Health Expert.
Lisa created all of the base recipes on our lunch, catering, and drink menus. She is always looking for new things to add to the shoppe- new teas, tea accessories, sparkling botanical drinks, alcohol-free wines, boutique chocolates, and HopTeas. She has also implemented many events for children, such as Princess Teas, American Girl Teas, and Tea Etiquette classes. To provide something unique for adults, she added Tea-vents such as Dowton Abbey, Witches & Warlocks, Galentine's Tea, Harry Potter Yule Tea, Tea and Chocolate Pairings, and monthly tea tastings. This year we are hoping to have a Kentucky Derby Tea Party!
Upon graduation, Rachel and Regina decided to stay and help the business grow, utilizing their college degrees to help in all areas of the business. Rachel is a certified pastry chef, earning her degree in the Baking and Pastry Arts, from Pierpont Culinary Academy. She then graduated from WVU in May 2020 with a bachelor's degree in Entrepreneurship and Innovation. She is responsible for baking all the bite-sized pastries you find on the specialty tea services and for the bakery items located in the front of the shop. She also acts as the Front of House Manager during the day, greeting and seating customers, while managing the wait staff. Rachel is also our Event Coordinator for catering events, baby/bridal showers, etc. Ask for Rachel if you would like to book an event or place a catering order!
Regina graduated a semester early in December 2019 from WVU with a Bachelor of Science in Psychology and a minor in Business Administration. Regina leaned more on her business background to help her advance and become The Tea Shoppe kitchen manager and supervisor. She is responsible for baking the restaurant's popular daily scones and quiche, as well as executing the extensive luncheon menu. Regina utilizes her research background to manage all of The Tea Shoppe's social media accounts, posting information on the history and health benefits of teas, daily menu specials, as well as new retail items and upcoming events.
The Tea Shoppe is best known for our Afternoon Tea Service, but has since become known as a great venue to host bridal showers, baby showers, bridge clubs, book clubs, Red Hats, and more. Over the past eight years, Lisa and her daughters have implemented some creative and exciting new menu items and events, turning The Tea Shoppe into its very own niche. They have planned and booked hundreds of events and parties and have loved every minute of it!
So, today and everyday we celebrate these phenomenal women as they continue to grow The Tea Shoppe into a premier destination in Morgantown.