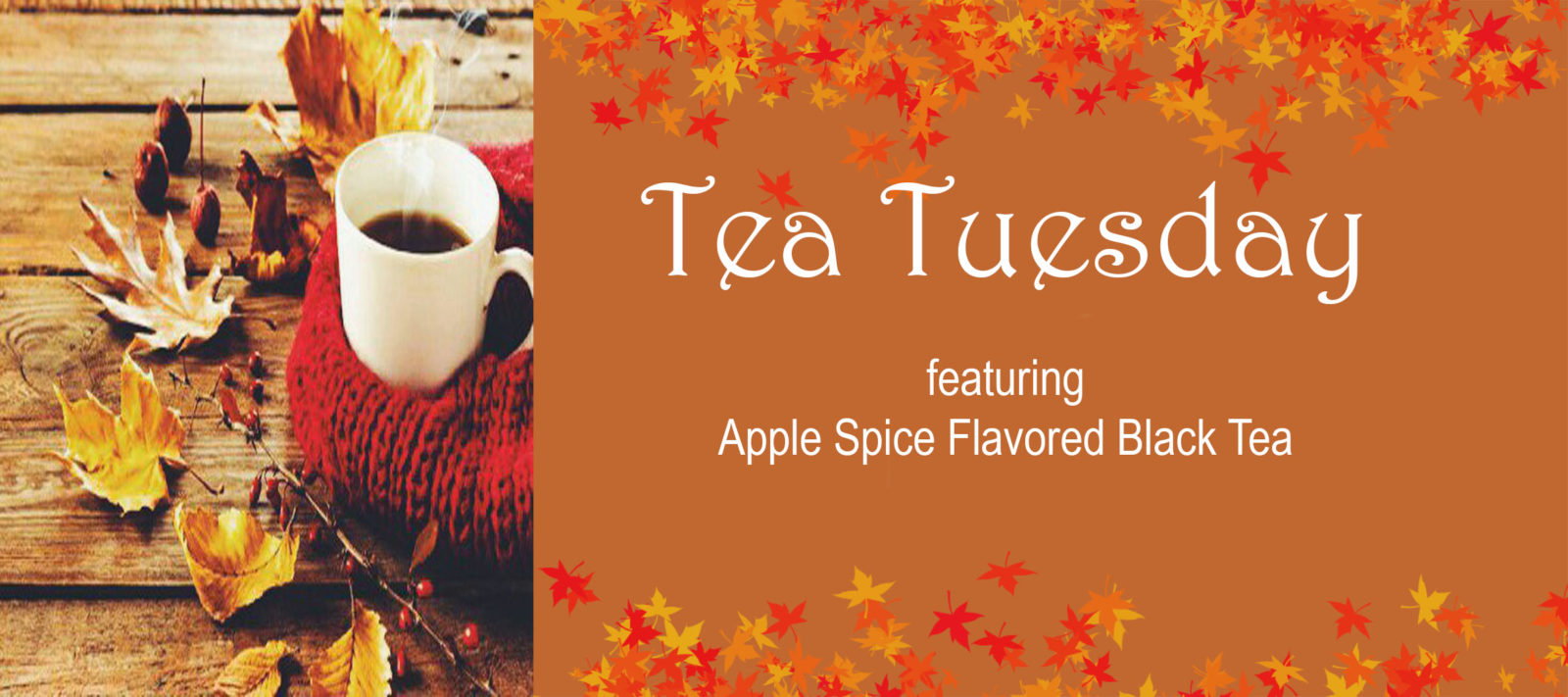 Tea Tuesday: Apple Spice
In The News Loose Leaf Tea Tea Tuesday
There is something to be said for the tranquility that comes with enjoying a hot cup of tea. Whether it be a warming start to a chilly morning, or a cozy evening with blanket and book on the couch, a cup of tea is always the perfect addition to your day. As the air becomes crisp and the leaves begin to change, it is the early signs of fall approaching. Soon we will find ourselves carving pumpkins, playing in the leaves, and picking delicious apples.
Our featured tea of the week is a Apple Spice flavored black tea. Brewing a pot of this tea is like baking an apple pie in a teapot, and what gets better than that? With warm cinnamon and fresh apple combined with the deep flavor of our natural black tea is a true treat. Keep reading to find out more about this wonderful brew!
A Cup of History
Apple pie is as American as it gets. Ironically, apples did not originally come from the United States. They are believed to be sourced from ancient Rome. From years of immigration, apples finally found there way into Massachusetts.
Thanks to the hard work of John Chapman, also known as Johnny Appleseed, apples were spread across the country. Today there are over 7,000 types of apples throughout the world.
Fal

l

ing for Health
Touted for their health benefits and the common adage, "an apple a day keeps the doctor away," many view the fruit as a delicious addition to their regular diet. Apples have been proven to contain flavanoids, antioxidants, dietary fiber, and phytonutrients that have been proven to aid the fight against many common illnesses. As people around you begin their fall sniffles, a cup of tea is a great way to boost your immune system and offer a relaxing treat.
Brewing Instructions
This tea works wonderfully as a hot or iced tea. 
Hot Tea: Mix one slightly heaping teaspoon for each 8 ounces of  boiling water. Steep for approximately 5 minutes, and add milk and sugar to taste.
Iced Tea: Place one slightly heaping teaspoon for each 6 ounces of boiling water (or 6 teaspoons for a pot). Steep the tea for approximately 5 minutes. Add steeped tea to a glass full of ice, and add sugar and lemon to taste.
* Note: it is normal for some luxury teas to turn cloudy when poured over ice. This is nothing to worry about, as it is simply a sign of luxury quality.